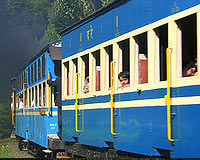 Once the summer capital of the Madras Presidency, Ooty is one of the most popular hill stations of India. Ooty is sometimes referred to as the Scotland of the East and is thronged by tourists throughout the year. Located in the state of Tamil Nadu, Ooty is just 90 km from Coimbatore which also has the nearest airport to the hill station. The roads and rail network have long been laid in Ooty, making it accessible from different parts of India.
By Air
The hill station of Ooty itself doesn't have an airport. The nearest airport to Ooty is situated at Coimbatore which is at about a distance of about 90 km from Ooty. The Coimbatore city has direct International flights from Sharjah, Colombo and Singapore. It also has several domestic flights connecting it with major cities of India.
By Rail
The difficult terrain of Nilgiri hills has been triumphed over by laying a beautiful narrow gauge rail track till Mettupalayam and Coonoor. The railway station of Ooty is merely 2 km away from the city center. The toy train journey begins from Mettupalayam and coming via Coonoor it reaches Ooty. The Nilgiri Mountain Railway is one of the oldest in the country and has been declared a World Heritage Sight in 2005 by UNESCO. The major broad gauge junction is located at Coimbatore which is connected to almost all the major cities. However, the nearest broad gauge is situated at Mettupalayam.
By Road
The roads in Ooty are well laid and maintained. The nearest major city to Ooty is Coimbatore at a distance of about 90 km. The state of Tamil Nadu has an excellent network of roads and highways, thus taking a bus ride to Ooty won't really be a bad idea, which would give you an opportunity to view the scenic beauty of the Nilgiri hills. One can avail regular bus services to and from Coimbatore, Bangalore, Mysore, Calicut/Kozhikode, Kanyakumari, Thanjavur, Tirupathi, Cochin and Palghat. You can also book a private cab to reach Ooty and travel to this beautiful hill station at your own pace enjoying the splendor of its picturesque locales.