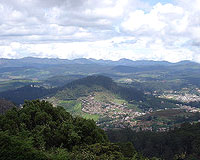 Location:
District, Tamil Nadu
Altitude:
2240 m
Summer Temperature:
Max: 25º C; Min: 10º C
Winter Temperature:
Max: 21º C; Min: 4º C
Average Rainfall:
121 cm
Best Time to Visit:
Throughout the Year
This beautiful hill station of South India is called the Queen of Hills. Situated in the lap of Nilgiri hills, Ooty enjoys pleasant weather throughout the year. All the seasons in Ooty bring different shades and add to its beauty. Spring season is the time when Ooty is completely colorful with innumerable flowers, spread on the hills and the valley. Situated at an altitude of 2240 m, the hill station of Ooty enjoys pleasant summers and chilly winter. The Queen of hills is thus hospitable throughout the year and attracts maximum number of tourists in summer.
Summer
During the summer months, the mercury rises to a maximum of 25º C whereas the lowest temp touches 10º C. The summer months at Ooty last from March to September and one can feel a slight coolness in the weather at night. You can take a light wool shawl or jacket for strolling at night. It is in these summer months that Ooty gets maximum number of visitors.
Winter
Winter months in Ooty are really cold and chilly with the mercury further dipping to a low of 4º C. The spell of winter season lasts from October to February when the entire hill town is enveloped in fog, which gives it a mesmerizing feel. Taking an early morning walk in cold breeze and mist on your face is one of the romantic adventures you can undertake at Ooty. It is advisable to carry woolens with you when planning a holiday to Ooty in the winter season.
Monsoons
The monsoons at Nilgiri hills bring a new life to the plantations at Ooty. During the rainy season Ooty is fully covered with lush green grasslands. The trekking expeditions remain closed during this season but enjoying a drizzle or a heavy spell of rain is something which has a unique charm. The hill station receives an average rainfall of 121 cm during the months of July to September.